Parish News - Updated 8/15/2022
Religious Education registration is now taking place. Please select "Religious Education" tab for more information.
Our Parish is planning a Fall Festival Fundraiser which has been scheduled for Sunday, October 2nd. A Pre-Fall Festival Bingo has been scheduled for Sunday, August 28th from 1-4 PM. Please select "2022 Fall Festival" tab for more detailed information.
June 2022 Monthly Financial Report has been posted. Please select the "Finance Reports" tab.
Sacred Heart in Espanola is sponsoring a Men's Acts Retreat, August 25th-28th (3nights & 4 days). The cost is $150. Please contact Robert Gallegos at 505-929-2810 to register or if you want more information.
The Archdiocese will be having a Phase III land auction. A one and a half acre parcel behind St. Anne's church in Alcalde will be included in the auction. Online bidding will begin August 18th and bidding concludes on August 23rd. Here is the weblink www.ASFbankruptcyauction.com if you are interested on bidding.
Reflection for 14 August
GOSPEL MEDITATION
August 14, 2022
20th Sunday in Ordinary Time
An inward transformation occurs in a person who decides to follow Jesus Christ. Things change. They see the world differently, understand their journey more deeply and profoundly, have their sights fixed on eternity and union with God and hold themselves to higher standards and virtues. It requires a conscious choice to be a Christian, and this choice must be renewed at least daily. While the basic premise of Jesus' message may appear heartwarming and straightforward: love of God, neighbor, and self, the implications of doing so are challenging. The true disciple is called to live radically, and often finds themselves at odds with the world or even with those in their own homes.
Holding ourselves to higher standards comes with a price. We have to leave other things behind. It is difficult to be people of faith, hope, and love in a world often fixated with its own fulfillment and self-absorption. Justice, temperance, prudence, and fortitude require sacrifice if they are to be lived with integrity. God's ways are not ours. This becomes crystal clear to those who have enough courage to stand against the tide. Putting love into action requires that we challenge accepted modes of doing business and fight complacency. This is what makes the saints stand out as witnesses. They are simply sinners, just like us, who persevere. People do not want to be told that they're sailing their ships in the wrong direction. Clinging to their insistence and need to be correct, they can become defensive when challenged. This can happen even with those closest to us.
As much as the Gospel calls us to unity, it also can easily create division. When we love seriously, we encounter more than feelings of warmth and acceptance. "What does love look like? It has the hands to help others. It has the feet to hasten to the poor and needy. It has eyes to see misery and want. It has the ears to hear the sighs and sorrows of men. That is what love looks like (St. Augustine)." Love also has the courage and honesty to tell people what they may not want to hear but need to, and model, without wavering, a life of humble, loving, and faithful service. Don't lose heart! There are many examples of faith before us and around us. If Jesus endured the voices of opposition, so too can we. There is no need to apologize for speaking the truth.
Schedule for Accepting Mass Intentions
Mass Intention Helpful Guidelines
Mass intentions must be requested two weeks in advance to ensure it gets into the bulletin.
The suggested mass stipend offering is $10 per mass.
Three (3) intentions can be offered per mass stipend.
Mass intention requests must be done in the parish office. no mass intention or money shall be accepted outside the office.
Click here to print a mass intention form that can be used to take to the office to expedite the scheduling process.
Online Givers
A big thank you to all of you who are using our online giving option. During this time of church occupancy limits as well as for those not ready to attend in-person Sunday Mass, this option may be one you might consider. I recommend using the Memorare and the Prayer to St. Michael. If you need anything, please call the office during office hours or the priests on their phones at all other times.
Fr. Nathan Lopez
Annual Catholic Appeal (ACA) 2022 Report
Report as of 7/31/2022
| | |
| --- | --- |
| Parish Goal: | $29,000.00 |
| Total Pledged: | $24,882.00 |
| Total Paid: | $19,082.00 |
| Pledge Balance: | $ 5,800.00 |

Total Registered Families: 773

Pledges: 77

Pledges fully paid: 58

Current actual shortfall: $9,918.00
Annual Catholic Appeal (ACA) Information
San Juan Bautista and Tewa Missions Goal for 2022 is $29,000.
The Annual Catholic Appeal (ACA) for 2022 campaign has begun. If you did not receive an ACA envelope in the mail, there are some located at the back of the church. You can place the completed form and envelope in the collection basket. It is best to use a check when using the envelopes.
DONATE NOW - Make a one-time donation, or set up a payment plan with a frequency that is convenient for you.
PLEDGE HERE - Not yet ready to donate: Make your pledge here, and we will send you regular pledge balance reminders.
If you prefer to make your pledge or donation over the phone, please call 505.831.8138, or click here to view their website. Please provide your name and phone #, and if you would like to talk with a Spanish-speaking representative.
How do new parishioners register for an account?
Registering for FORMED is easier than ever:
Go to formed.org/signup
Select your parish (using zip code is easiest): San Juan Bautista and Tewa Missions or 87566
Register with your name and email address
Check that email account for a link to begin using FORMED
How do parishioners log into FORMED that previously had access?
Go to formed.org/signup
In the upper right corner, select "Sign In"
A new "Sign In" screen appears and user enters their email address and selects "Next"
A message appears for user to "Check your email!"
Check that email account for a link to begin using FORMED
Daily Readings
Weekly reading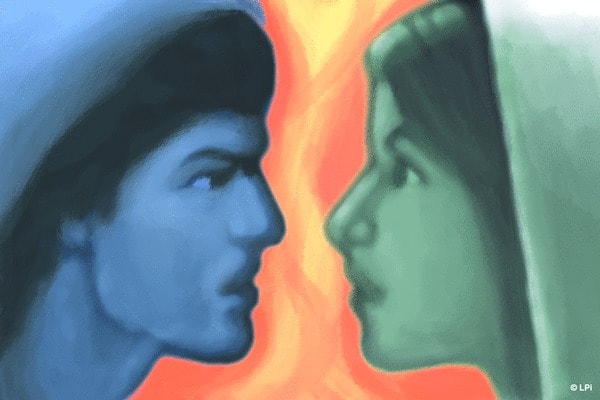 Weekly reading
Readings for the week of August 14, 2022
© Liturgical Publications Inc
ASF Abuse Awareness Course
ASF Abuse Awareness Course click here
The Archdiocese of Santa Fe policy mandates that all volunteers attend the Abuse Awareness Training for Adults.