Parish News - Updated 5/2/2022
St. Vincent de Paul and Catholic Charities of ASF are taking collections to help the NM Fire Victims. If you are interesting in helping you can donate online or put your donation in the collection box. Be sure and identify which charity you wish to donate to SVDP or Catholic Charities. If writing a check for SVDP, please make check payable to SVDP; for Catholic Charities, please make check payble to San Juan Bautista.
Fr. Nathan Lopez is now our Pastor for San Juan Bautista and Tewa Missions. Many blessings and thanks to Fr. Jose Herrera who has been transferred to San Isidro in Santa Fe. Please welcome Fr. Benny Sebastian our new Parochial Vicar for San Juan Bautista Parish.
Please see below for new parish office hours and mass schedule changes.
March 2022 Monthly Financial Report has been posted. Please select the "Finance Reports" tab.
Schedule Changes
NEW PARISH OFFICE HOURS, EFFECTIVE MAY 1ST
| | |
| --- | --- |
| Monday | 9:00 AM - 5:00 PM |
| Tuesday - Thursday | 9:00 AM - 3:00 PM |
| Friday | 9:00 AM - 12:00 Noon |
MASS SCHEDULE CHANGES, EFFECTIVE MAY 1ST
Friday, 6:00 PM mass has been moved to 12:00 PM with exposition of Jesus at 11:00 AM
Sunday 4:00 PM Spanish mass is CANCELLED indefinitely
1st Saturday mass has moved from 8:00 AM to 10:30 AM with exposition of Jesus at 9:30 AM
Reflection for 15 May
GOSPEL MEDITATION
May 15, 2022
5th Sunday of Easter
"It is necessary for us to undergo many hardships to enter the Kingdom of God." Many folks really work very hard to circumvent difficult situations. We prefer the easier way around something, rather than risk inconvenience, hurt or prolonged suffering. It's no wonder euthanasia is rapidly becoming acceptable around the world. Through purely human eyes, there is no issue bypassing the inevitable, taking control and bringing things more swiftly to a place of peace. If this is the way God sees things, then why does Jesus make such a big deal helping us understand the experience of suffering and embrace it? God's wisdom clearly takes us in another direction.
Imagine if we were able to eradicate ALL hardship and suffering. Where would we be? As we look at our own journeys, many of our solid more growth-producing life lessons have been born of suffering, disappointment, inconvenience, darkness, and despair. There is something sacred about all of these experiences as God uses them to create something new. Envisioning a life without hardship and suffering brings us to a vision where everything is flat-lined and dull. As much as hardship and suffering are difficult crosses to bear, not taking them up runs the risk of us becoming shallow, empty, and lifeless. Helen Keller remarks that "a happy life consists not in the absence but in the mastery of hardships." What an incredibly wise insight! Many really successful people and saints were brought to their station in life because they suffered. Suffering teaches us about what's important and propels us to search the depths of our souls for resources and strength we never would have known before. This is especially true when we love as Jesus asks us to love. Love, perhaps above any other experience, can cause us great hardship, pain, and suffering especially when it's authentic and unconditional. While it can thrust us into an incredible experience of God and life on one hand, it can bruise and wound us deeply on the other. Mastering the art of love is the secret to living life well, walking in the presence of God and investing in the joy of the Gospel. Love and suffering walk hand in hand. Compromising one will compromise the other. Maybe that's why Jesus spent so much time convincing us to accept both.
Message from Archbishop Wester
Archbishop Wester is requesting we take up a collection to assist those who have lost their homes and other property in the New Mexico fires. You are invited to send your donation to our Catholic Charities office at 2010 Bridge Blvd SW, Albuquerque, NM 87105. You may also put your donation in the collection bin at church, please indicate "NM Fire Victims".
Prayer for those affected by these devastating fires:
Loving God, Father of us all and giver of every good gift, we turn to you in our need as our fellow citizens suffer from the wildfires raging in our beautiful state of New Mexico. We ask you to protect and comfort those who have been forced to evacuate, those who have lost a home or other property and all those who are in harm's way. Guide and guard the brave men and women who are fighting the fires and all of our civic leaders who are joining in this valiant effort. Give us favorable weather in this struggle and send us those graces we need to come together as one family to face the current crisis together. May generous hearts and hands reach out to those who are forced from home and may we all care for one another as you care for us. We make our prayer through Christ, our Risen Lord. Amen. St. Florian, pray for us.
Prayer for the Synod - English
Adsumus, Sancte Spiritus Oración por el Sínodo - Espanol
Schedule for Accepting Mass Intentions
Mass Intention Helpful Guidelines
Mass intentions must be requested two weeks in advance to ensure it gets into the bulletin.
The suggested mass stipend offering is $10 per mass.
Three (3) intentions can be offered per mass stipend.
Mass intention requests must be done in the parish office. no mass intention or money shall be accepted outside the office.
Parishioners can request mass intentions by using the "Mass Intention Envelopes" located at the back of the church and placed in the collection basket. If envelopes are used, please be sure to include a phone number. Mass time requested on the envelope is not guaranteed.
Click here to print a mass intention form that can be used to take to the office to expedite the scheduling process.
Online Givers
A big thank you to all of you who are using our online giving option. During this time of church occupancy limits as well as for those not ready to attend in-person Sunday Mass, this option may be one you might consider. I recommend using the Memorare and the Prayer to St. Michael. If you need anything, please call the office during office hours or the priests on their phones at all other times.
Fr. Jose Herrera
Annual Catholic Appeal (ACA) 2022 Report
Report as of 5/2/2022
| | |
| --- | --- |
| Parish Goal: | $29,000.00 |
| Total Pledged: | $23,082.00 |
| Total Paid: | $13,292.00 |
| Pledge Balance: | $ 9,790.00 |

Total Registered Families: 764

Pledges: 66

Pledges fully paid: 45

Current shortfall: $15,708.00
Annual Catholic Appeal (ACA) Information
San Juan Bautista and Tewa Missions Goal for 2022 is $29,000.
The Annual Catholic Appeal (ACA) for 2022 campaign has begun. If you did not receive an ACA envelope in the mail, there are some located at the back of the church. You can place the completed form and envelope in the collection basket. It is best to use a check when using the envelopes.
DONATE NOW - Make a one-time donation, or set up a payment plan with a frequency that is convenient for you.
PLEDGE HERE - Not yet ready to donate: Make your pledge here, and we will send you regular pledge balance reminders.
If you prefer to make your pledge or donation over the phone, please call 505.831.8138, or click here to view their website. Please provide your name and phone #, and if you would like to talk with a Spanish-speaking representative.
How do new parishioners register for an account?
Registering for FORMED is easier than ever:
Go to formed.org/signup
Select your parish (using zip code is easiest): San Juan Bautista and Tewa Missions or 87566
Register with your name and email address
Check that email account for a link to begin using FORMED
How do parishioners log into FORMED that previously had access?
Go to formed.org/signup
In the upper right corner, select "Sign In"
A new "Sign In" screen appears and user enters their email address and selects "Next"
A message appears for user to "Check your email!"
Check that email account for a link to begin using FORMED
Daily Readings
Weekly reading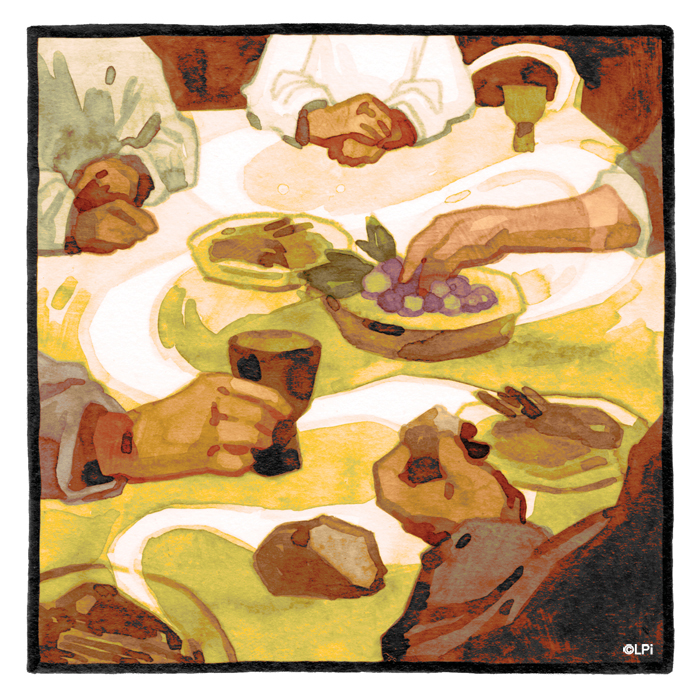 Weekly reading
Readings for the week of May 15, 2022
© Liturgical Publications Inc
ASF Abuse Awareness Course
ASF Abuse Awareness Course click here
The Archdiocese of Santa Fe policy mandates that all volunteers attend the Abuse Awareness Training for Adults.