Parish News - Updated 6/22/2022
The Parish Office will be closed on Friday, June 24th for the feast of St. John the Baptist.
We are in the planning stages for a Fall Festival, stayed tuned.
St. Vincent de Paul and Catholic Charities of ASF are taking collections to help the NM Fire Victims. If you are interesting in helping you can donate online or put your donation in the collection box. Be sure and identify which charity you wish to donate to SVDP or Catholic Charities. If writing a check for SVDP, please make check payable to SVDP; for Catholic Charities, please make check payble to San Juan Bautista.
April 2022 Monthly Financial Report has been posted. Please select the "Finance Reports" tab.
Reflection for 26 June
GOSPEL MEDITATION
June 26, 2022
13th Sunday in Ordinary Time
And to another he said, "Follow me." In every moment of every day, in every circumstance and experience, God is calling us. We can easily get distracted and not hear it or simply ignore it, pretending it wasn't even heard. When we do hear it and favorably respond, there are some conditions that must be met. Jesus makes it clear that once we say yes to his invitation, we must stay focused and forge ahead. We cannot keep looking behind or worry about unfinished business. There are some tasks, and discipleship is one, that require our full devotion.
There are many "masters" vying for our attention. We need something or someone to give us direction. Human nature requires it. Our motives and actions reveal what has our allegiance. It is tempting to give ourselves to masters that lure us with intriguing promises. When given the choice between a "master" that promises worldly success, abundant wealth, status, privilege, and security versus a "master" that asks for self-sacrifice, hardship, suffering, ridicule, and death, to whom do we go? While the promise of immediate pleasure is enticing, there is always a catch. For all that secular masters can promise, they always keep us looking behind, checking on ourselves, second guessing choices, calculating options, and being slaves to excessive worry. Our guard can never come down. Only one master really promises life: Jesus Christ. Hearing his call, we either trust him or we don't.
Saying yes to following Christ does come with a risk. But it also comes with the brightness of future hopes and dreams. There is no need to keep looking behind. Sins are forgiven and regrets serve no effective purpose. God is not there. He's moved beyond all that stuff. God is in the today and the tomorrow and what he can continually do with our daily affirmation to follow Him. All we need to do is be obedient. St. Gianna Molla is credited with saying, "The stillness of prayer is the most essential condition for fruitful action. Before all else, the disciple kneels down." Begin with prayer. We will not only hear God's call but find the courage to trust that He will guide us where we need to be. God uses us in the most ordinary of ways through the simple daily expression of our lives.
Schedule for Accepting Mass Intentions
Mass Intention Helpful Guidelines
Mass intentions must be requested two weeks in advance to ensure it gets into the bulletin.
The suggested mass stipend offering is $10 per mass.
Three (3) intentions can be offered per mass stipend.
Mass intention requests must be done in the parish office. no mass intention or money shall be accepted outside the office.
Click here to print a mass intention form that can be used to take to the office to expedite the scheduling process.
Online Givers
A big thank you to all of you who are using our online giving option. During this time of church occupancy limits as well as for those not ready to attend in-person Sunday Mass, this option may be one you might consider. I recommend using the Memorare and the Prayer to St. Michael. If you need anything, please call the office during office hours or the priests on their phones at all other times.
Fr. Jose Herrera
Annual Catholic Appeal (ACA) 2022 Report
Report as of 5/2/2022
| | |
| --- | --- |
| Parish Goal: | $29,000.00 |
| Total Pledged: | $23,082.00 |
| Total Paid: | $13,292.00 |
| Pledge Balance: | $ 9,790.00 |

Total Registered Families: 764

Pledges: 66

Pledges fully paid: 45

Current shortfall: $15,708.00
Annual Catholic Appeal (ACA) Information
San Juan Bautista and Tewa Missions Goal for 2022 is $29,000.
The Annual Catholic Appeal (ACA) for 2022 campaign has begun. If you did not receive an ACA envelope in the mail, there are some located at the back of the church. You can place the completed form and envelope in the collection basket. It is best to use a check when using the envelopes.
DONATE NOW - Make a one-time donation, or set up a payment plan with a frequency that is convenient for you.
PLEDGE HERE - Not yet ready to donate: Make your pledge here, and we will send you regular pledge balance reminders.
If you prefer to make your pledge or donation over the phone, please call 505.831.8138, or click here to view their website. Please provide your name and phone #, and if you would like to talk with a Spanish-speaking representative.
How do new parishioners register for an account?
Registering for FORMED is easier than ever:
Go to formed.org/signup
Select your parish (using zip code is easiest): San Juan Bautista and Tewa Missions or 87566
Register with your name and email address
Check that email account for a link to begin using FORMED
How do parishioners log into FORMED that previously had access?
Go to formed.org/signup
In the upper right corner, select "Sign In"
A new "Sign In" screen appears and user enters their email address and selects "Next"
A message appears for user to "Check your email!"
Check that email account for a link to begin using FORMED
Daily Readings
Weekly reading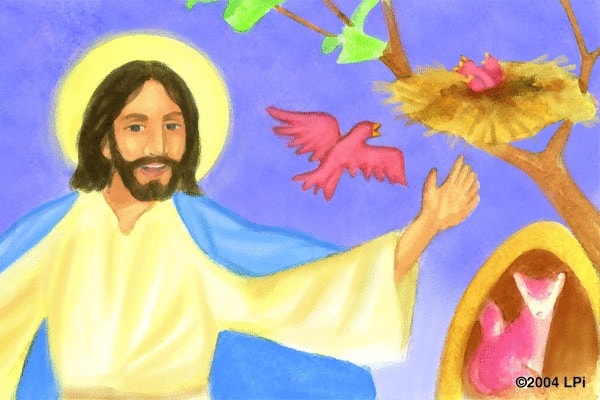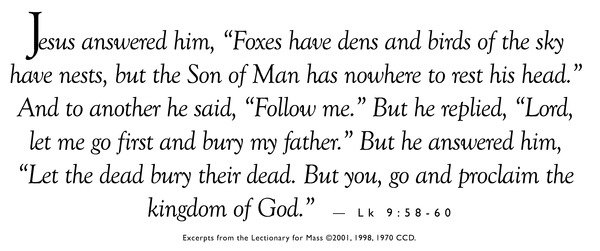 Weekly reading
Readings for the week of June 26, 2022
© Liturgical Publications Inc
ASF Abuse Awareness Course
ASF Abuse Awareness Course click here
The Archdiocese of Santa Fe policy mandates that all volunteers attend the Abuse Awareness Training for Adults.